Chef Luisteen's September Taco of the Month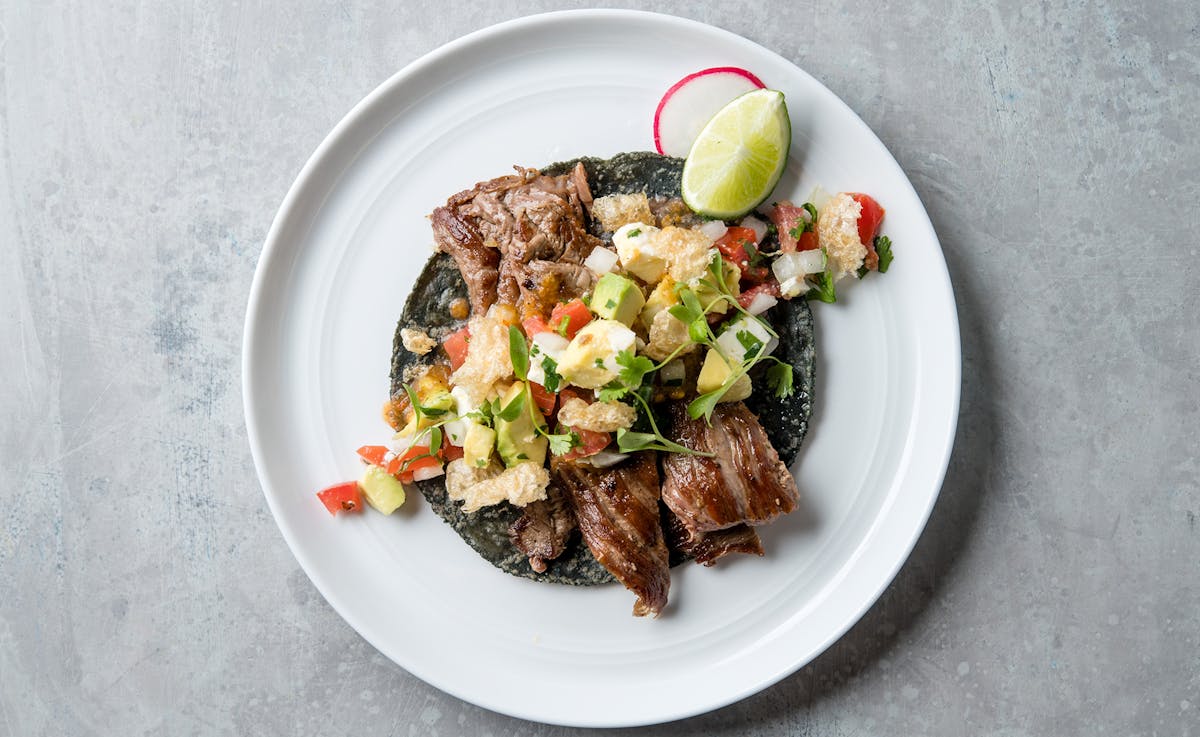 9/1/2019
September Taco of the Month
You won't want to miss Chef Luisteen's Ribeye taco, or as he calls it, his "Sunday Taco." His family (and many families) spend their Sundays outside, grilling, hanging out together and bonding over good food. Thinly sliced steak is purchased from the local carnicería and prepared really simply with salt and pepper. As it's grilled, the meat gets drizzled with a bit of beer.
Our version is a thinly sliced ribeye marinated in beer and fresh orange juice. It is plated with our tomatillo arbol salsa and a pico assembled with panela cheese and fresh avocado, topped with chicharrones! We're pretty obsessed with this taco and think you will be too!
Seasonal Cocktails
DRINKING & KNOWING THINGS
What's in it: Mezcal, ancho chile liqueur, orange and lemon juices, and egg white.
This is a slightly spicy, smoky, citrusy concoction with a cap of airy foam on top. Using an egg white to create froth dates back to classic cocktail days, as early as the 1860s. There is no "eggy" taste. When the cocktail is shaken, the egg white enriches the texture like in a meringue.
ROSÉ ALL DAY
What's in it: London dry gin, rosé wine, elderflower liqueur, muddled raspberries, and fresh mint.
Crisp, refreshing rosé wine is a summer staple. Pairing it with dry gin gives it body, balance, and booziness. Muddled raspberries and a touch of elderflower liqueur soften the drink into an easy-drinking seasonal favorite.
MEZCAL LEMONADE
What's in it: Añejo tequila, mezcal, fresh lemon juice, ground Canela, and smoked lemon.
Nothing says summer like lemonade! Our version takes it south of the border with tequila and mezcal, with a hint of Mexican Canela. A smoked lemon garnish pulls all the flavors together.
Horchata for A Cause Beneficiaries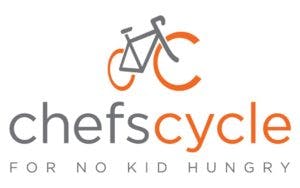 CHEFS CYCLE is a fundraising endurance event featuring award-winning chefs and members of the culinary community-fighting hunger outside the kitchen. For the past four years, the Chefs Cycle has engaged culinary talents who want to push their limits by completing a three day, 300-mile ride while raising funds and awareness in support of No Kid Hungry. The 2020 ride has a goal of 275 chefs riding to help raise $2 million, which translates into 20 million meals for kids facing hunger. Join us in supporting our local culinary community as they cycle for a cause.

Irvine Public Schools Foundation (IPSF) is a nonprofit organization with the mission of enriching the educational experience of each child in every school. Founded in 1996 by concerned parents and community leaders, IPSF sponsors enrichment programs and provides financial support to ensure educational excellence in Irvine schools. In addition, IPSF excels at uniting local corporate and community partners, parents and residents in raising funds to nurture student potential. Each year, IPSF provides millions of dollars in funding to Irvine Unified School District (IUSD) to support STEAM (science, technology, engineering, arts, and mathematics) education, small-group learning, afterschool and summer programs, grants for classroom innovation, and support for mental health initiatives and athletic trainers.