Introducing Your April Tacos of the Month!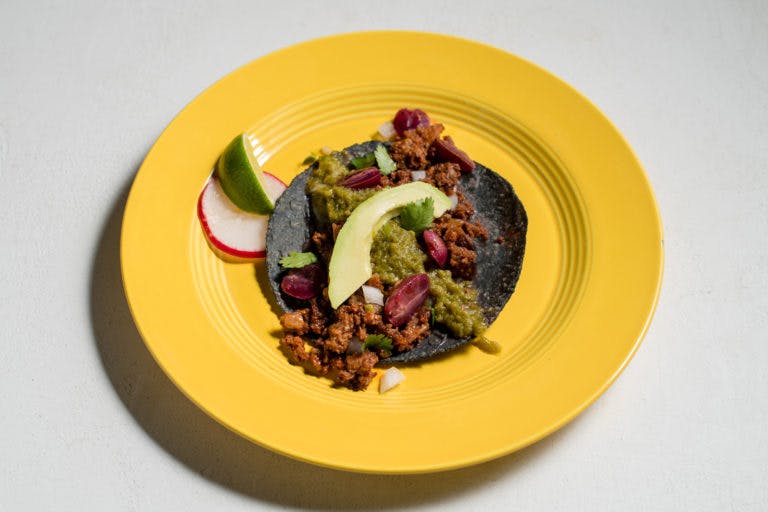 4/1/2019
April Happenings
Puesto's Next Top Taco Showdown, in partnership with San Diego Magazine, is back on Saturday, April 27th at Puesto at the Headquarters. Watch as our panel of judges: San Diego food critic Troy Johnson, media personality Jenny Milkowski, and Puesto Executive Creative Chef Katy Smith determine our winner and enjoy free tacos on us + drink specials! Follow along on Facebook and Instagram for updates.
Taco(s) of the Month
This month you can try two different tacos of the month! Our San Diego and La Jolla locations are rolling out a special "Manny Machado" inspired taco in honor of Opening Day and the start of baseball season. In Irvine, Santa Clara and Concord, enjoy a very delicious Campechano taco.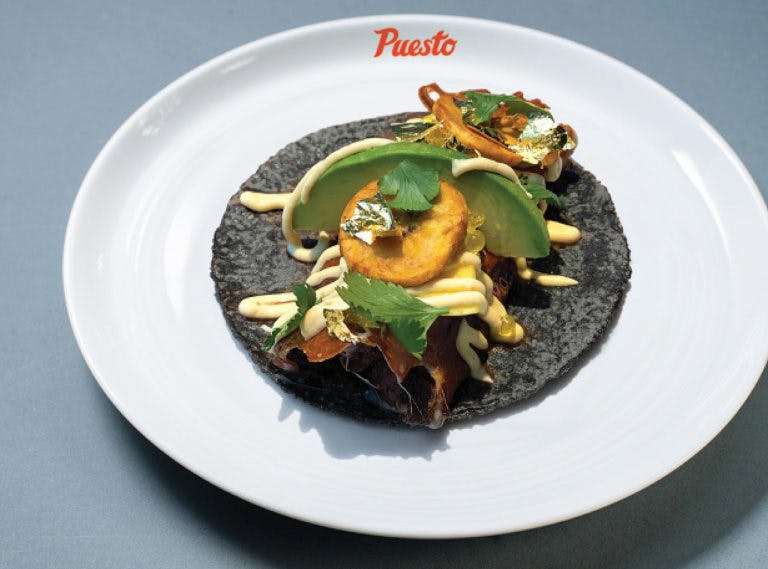 What's in the Manny Machado taco: filet mignon, crispy melted cheese, queso Oaxaca, fresh mango, avocado, tostones, olive oil caviar, spicy Manzano-plantain sauce, cilantro, and 24k gold leaf.
When Chef Edgar Chong was tasked with creating a Manny Machado themed taco, he began thinking about what a professional baseball player from the Dominican Republic with a $300 million dollar contract would want in his taco. With our Filet Mignon taco being a crowd favorite, he used the filet mignon and crispy cheese as the foundation. To add a Caribbean flair, he made sure to include plantains, known as "tostones" in the Carribean, Chef Chong fried the plantains twice to symbolize Machado's two Golden Glove awards. A slice of mango is added for sweetness and a slice of avocado is added for creaminess.
Chong selected chile Manzanos for the salsa, as it is a popular chile used in the tropical climates of southern Mexico. Plantains are also used in the salsa to add body to the salsa on the taco. Chong's cleverness is further featured by adding olive oil caviar to balance the bold flavors. Finally, gold leaf is added as the finishing extravagant touch.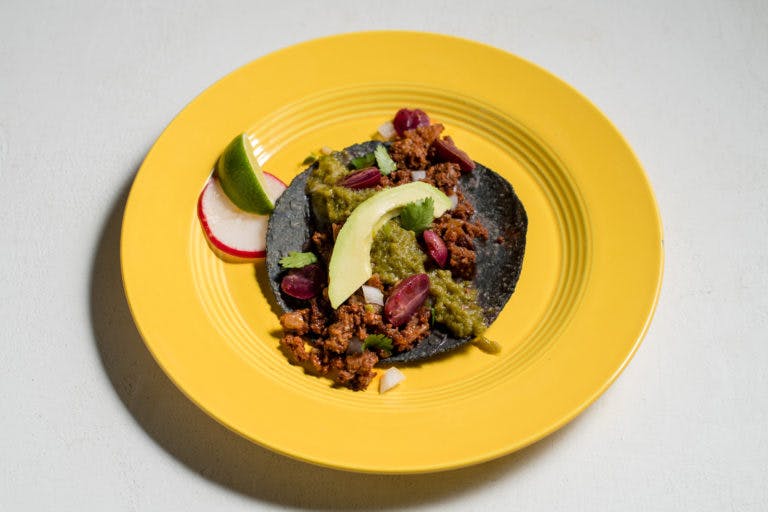 What's in the Campechano taco: pork chorizo, prime beef, cooked chicharrones, tomatillo mignonette salsa, and roasted grapes.
Chef Katy says, "You're welcome" in advance. This was a taco that was inspired by one of Chef Katy's favorite street tacos in Mexico. We are calling it "Campechano" but it is also referred to as "mixto", meaning "a mix!" Your average street taco cart in Mexico will have a big round plancha with sections of the plancha with different types of meat; beef in one section, chorizo in another, pig ears, carnitas, etc. This taco is essentially the version of ordering THE WORKS and getting everything that the taquero has to offer. Our taco is filled with pork chorizo, prime beef, and cooked chicharrones. It is mixed together and marinated at least 1 day to allow all of the flavors to meld together, which results in incredible flavors. We use a vinegary Tomatillo Mignonette Salsa to cut some of the richness of the meat, and we top the taco with really beautiful roasted grapes that add color and a hint of sweetness.
What we're drinking
Our spring cocktails are here and feature gin from our amigos at You & Yours Distilling Co., the first-ever female-led distillery, located in our hometown of San Diego! You can find us enjoying these cocktails for the next few weeks.
GARDEN PARTY: Sunday Gin, Dolin vermouth blanc, lemon, lime, & agave.
LAST FROST COLLINS: Winter Gin, Vida mezcal, lemon, orange, & cloves.
SPRING CHERRY GIMLET: Sunday Gin, fresh cherries, freshly squeezed lime juice, a touch of classic curacao from Pierre Ferrand.
Horchata for Cause Beneficiaries


CHEFS CYCLE is a fundraising endurance event featuring award-winning chefs and members of the culinary community-fighting hunger outside the kitchen. For the past four years, the Chefs Cycle has engaged culinary talents who want to push their limits by completing a three day, 300-mile ride while raising funds and awareness in support of No Kid Hungry. The 2020 ride has a goal of 275 chefs riding to help raise $2 million, which translates into 20 million meals for kids facing hunger. Join us in supporting our local culinary community as they cycle for a cause.

Irvine Public Schools Foundation (IPSF) is a nonprofit organization with the mission of enriching the educational experience of each child in every school. Founded in 1996 by concerned parents and community leaders, IPSF sponsors enrichment programs and provides financial support to ensure educational excellence in Irvine schools. In addition, IPSF excels at uniting local corporate and community partners, parents and residents in raising funds to nurture student potential. Each year, IPSF provides millions of dollars in funding to Irvine Unified School District (IUSD) to support STEAM (science, technology, engineering, arts, and mathematics) education, small-group learning, afterschool and summer programs, grants for classroom innovation, and support for mental health initiatives and athletic trainers.