June Specials + A Summer Marg!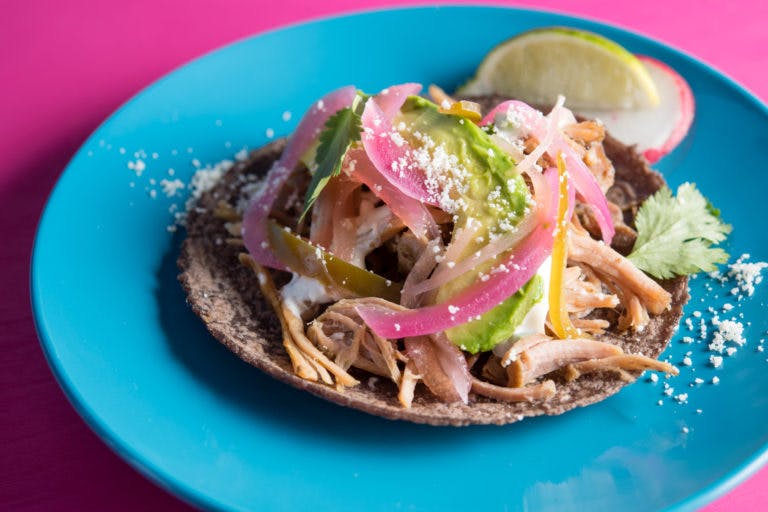 June Taco of the Month
In partnership with San Diego Magazine, we held a competition affectionately called Puesto's Next Top Taco in April. Four finalists were selected and the top four tacos were judged by San Diego food critic Troy Johnson, our very own Chef Katy Smith and tacoteur Eric Adler.
This taco (and its creator, Bri Geeski) took first prize, so as part of the winnings, her taco will be featured as our June taco of the month! Lately, Bri's been experimenting with pickling and was inspired for this taco creation. Thanks to her recent hobby, you can enjoy her delicious Pickled Pear Carnitas taco the entire month of June.
Hugged by our homemade blue corn tortilla, inside you'll find slow-cooked carnitas topped with avocado, cotija cheese, and housemade jalapeño crema. Its final garnish is a mix of red onions, jalapeños, and pears pickled in sweetened apple cider vinegar & peppercorns. Enjoy this taco as you welcome summer!
Summer Margarita of the Month


We're switching things up this summer and introducing a seasonal margarita for summer instead of one for every summer month… we hope you don't mind. We're honoring one of our favorite ingredients all summer long. It's creamy, delicious, can be enjoyed in a sweet or savory dish and it oh so California. Any guesses yet?
We're avo-crazy at Puesto and thus, the Avocado Margarita was born, made with Lunazul Reposado, fresh lime, agave, and avocado. It's also a collaboration with The Cado, a pop-up avocado museum coming to San Diego later this summer that we've teamed up with to celebrate California's favorite fruit.
Now, a little more on the booze. Lunazul is estate grown and distilled. One of the brothers of the Jose Cuervo family sold his share of the company and got some agave fields as part of the deal. Now, that estate produces Lunazul only. Lunazul is produced with classic techniques and heritage practices, resulting in a high-quality tequila with more acclaim than any good tequila needs. The reposado is rested in bourbon barrels, imparting layers of vanilla, spice, and subtle oak.
Horchata for a Cause Beneficiary

Autism Speaks is dedicated to promoting solutions, across the spectrum and throughout the life span, for the needs of individuals with autism and their families through advocacy and support; increasing understanding and acceptance of people with autism spectrum disorder; and advancing research into causes and better interventions for autism spectrum disorder and related conditions.
Autism Speaks was founded in February 2005 by Bob and Suzanne Wright, grandparents of a child with autism. Recognizing the need for a powerful voice Bernie Marcus donated $25 million to help financially launch the organization. Building upon the legacy of three leading autism organizations, Autism Coalition for Research and Education (ACRE), the National Alliance for Autism Research (NAAR) and Cure Autism Now (CAN), who merged with the organization, Autism Speaks has made extraordinary advancements in the autism community.
Today, Autism Speaks is dedicated to advancing research into causes and better treatments for autism spectrum disorders and related conditions both through direct funding and collaboration; increasing understanding and acceptance of autism spectrum disorders; and working toward solutions for the needs of individuals with autism and their families across the spectrum and life span through advocacy and support.