Let's taco-bout what's getting sweet & spicy this August at Puesto

As temperatures heat up, so does our taco of the month
This month's Taco of the Month – the Tinga De Res – consists of beef braised in love and stewed in the chipotle sauce until it's nice and tender.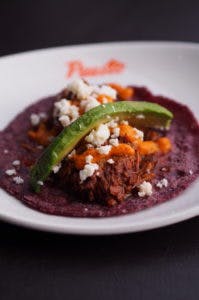 Chef Luisteen's "Salsa Loca" is a flavorful blend of tomatoes, red onions, jalapeños, and red bell peppers that brings a freshness to the taco. Queso Fresco and avocado are the perfect garnishes for a tasty finish.
How did we name this taco? "Tinga" means stew in Spanish. "Res" means beef. The meat will remind you of a spicy, slow-cooked pot roast. This taco is available at all our locations in San Diego, La Jolla, and Irvine.
A Banana walks into a bar


So we got our blow torch out and topped our Margarita of the Month with it. The Margarita Foster is our take on Bananas Foster.
Made with 100% blue agave reposado tequila, fresh lime, and banana, this margarita is finished off with aged rum and two slices of sweet, brûléed banana. It may remind you of dessert, but be sure to order it for the main course. The Margarita Foster cools down the heat of our taco of the month.
Saving our oceans, one horchata at a time


Your frozen horchata purchases this month go towards protecting our beautiful ocean. Our beneficiary of the month is The Surfrider Foundation. The organization is dedicated to the protection and enjoyment of oceans, waves, and beaches. Surfrider's programs help ensure that our marine environments are protected on many different levels, from testing coastal waters to ensuring that runoff stays in the garden to certifying ocean-friendly restaurants. Learn more at http://www.surfrider.org.