Puesto's featured Taco, Margarita & Charity for May

Featured items of the month
Taco of the Month: Taco de Puebla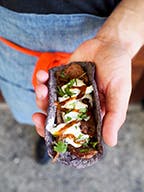 Puesto's featured Taco of the Month is a culinary example of the blending of two cultures. In the late 1890s, Lebanese families started emigrating to Mexico, largely to the state of Puebla. They brought with them their Middle Eastern cooking methods and flavors. To originally create Tacos de Puebla, Mexicans borrowed Middle Eastern spices and their method of cooking meat on a vertical rotisserie (trompo). Our Taco de Puebla is grilled but maintains a melding of two histories of flavors. Executive Creative Chef Katy Smith has created a smoky, packed with spice, refreshing taco. Try it today. It will only be available through May 31st. Make reservations here.
Margarita of the Month: Garden Margarita


Our 'Jefe,' Lucien Conner, created this month's featured specialty cocktail with the new spring harvest in mind. The Garden Margarita stays true to the simplicity of a margarita where acid and sugar balance to highlight the featured tequila, Milagro Silver. Its sweetness comes from the tomato, lending the margarita a flavor surprisingly similar to a strawberry. It has just the right balance of sweet and tart to pair perfectly with the Taco de Puebla.
Frozen Horchata For A Cause beneficiary: Food 4 Kids Backpack Program

Puesto is elated to support the Cushman & Jacobs San Diego Food Bank's Food 4 Kids Backpack Program as our featured charity throughout the month of May. When you buy a Frozen Horchata, we will then donate $1 to the program.
The Food 4 Kids Backpack Program provides weekend backpacks of food to elementary school students living in poverty. These children receive free meals at school during the week, however, they face hunger at home over the weekend when free school meals are unavailable.
Students are discretely given a new backpack every Friday afternoon. Tucked inside this backpack is a bag that contains enough food for the students to eat through the weekend. These tactful distributions remove the stigma that might be attached to the free meal program. A nourished child can concentrate better in school.
The San Diego Food Bank offers valuable online nutrition education with healthy recipes and resources. Learn how to host your own food drive. They post instructions on how with options for virtual food drives available too.
FUN FACT: This annual fundraiser by the San Diego Food Bank is called "Dollar-a-Dish." It was the catalyst for Puesto to create the Frozen Horchata For A Cause initiative last summer. Puesto now donates funds to a different worthy charity every single month from all three locations.