We're looking for Puesto's Next Top Taco!

PUESTO HAPPENINGS
Puesto's Next Top Taco: Think you have what it takes to create Puesto's Next Top Taco? We'd love to get your entry! We're partnering with our friends at San Diego Magazine on a quest to find the best taco creation. The entire month of March, you'll be able to submit your best taco recipe! Selected finalists will join us and some special guest judges in April to create their recipe. Winner will be announced in San Diego Magazine's Best Restaurants issue and will be served at Puesto the entire month of June. So follow us and San Diego Magazine on Facebook and Instagram for more details and apply here. Who knows, maybe even Tyra will make an appearance.
Puesto + Adya "Mumbai to Mexico City": Our very own Chef Katy Smith and Chef Shachi Mehra of ADYA will be presenting "From Mumbai to Mexico City!" on Thursday, March 29 at 6 pm as the inaugural dinner of ADYA's Guest Chef series. The dinner will feature 5 courses that showcase each chef's individual style, as well as two courses that combine the authentic flavors and signature dishes of ADYA and Puesto. In addition, Puesto Pastry Chef Jessica Scott will be creating a one-of-a-kind dessert inspired by both India and Mexico. Seats are $60 per guest and include a wine presentation (price excludes tax & gratuity). The dinner will be held at ADYA Anaheim and seating is extremely limited. Reservations can be made by emailing full contact details to info@adyaoc.com.
March Taco of the Month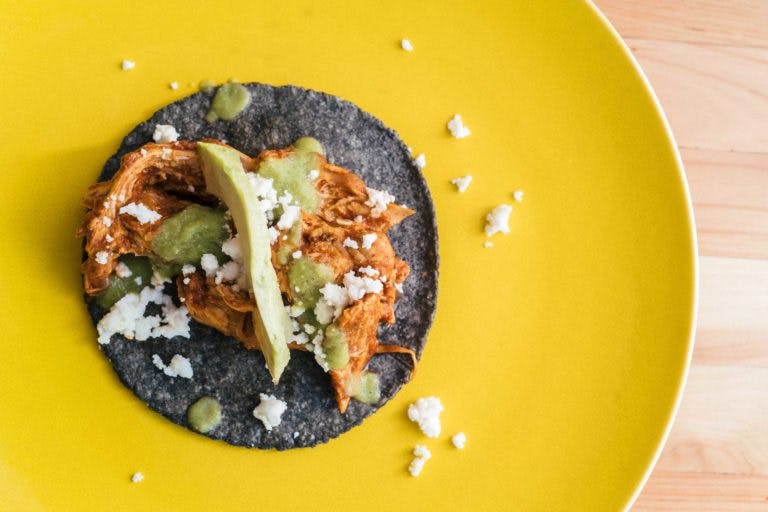 This month's Tinga de Pollo is comfort in a taco. Chicken breasts are braised with a whole bunch of delicious ingredients and then topped with tomatillo salsa, avocado, and queso fresco.
"Tinga" means stew in Spanish. Tinga de Pollo is popular in the state of Puebla, served on its own or as a filling in tortas. Our tinga is classic, homey, and packed with smoke and subtle sweetness from the chipotles en adobo. It also has some satisfying heat that's not for the faint of corazón.
March Margarita of the Month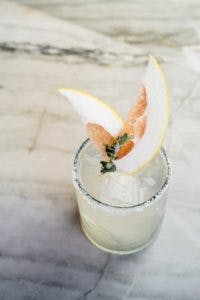 Spring is in the air and a refreshing Pomelo Oregano Margarita is just what you need. Made with fresh pomelo juice, cane sugar, and Mexican Oregano, it's herbaceous, gently bitter, and brightly tart. The drink gets its bunch from bacanora, an agave spirit from the southwestern state of Sonora, Mexico from the agave species Pacífica. This bacanora is rich and balanced with bold citrus and tropical fruit on the nose, and baking spices, subtle black pepper, and more citrus fruit on the palate.
Horchata for a Cause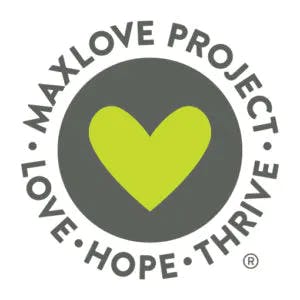 We're proud to support MaxLove Project this month as our beneficiary. This non-profit organization focuses exclusively on improving the quality of life and reducing long-term health risks for families affected by childhood cancer. Most kids that survive cancer experience a much lower quality of life and have much higher health risks for everything from heart disease to obesity to secondary cancers and early death.

To fight these odds, MaxLove Project educates survivors and their families about whole-body wellness resources through cooking classes, social support, and a variety of other educational opportunities. To learn more, visit maxloveproject.org.
Join the Puesto team!
Do you feel like Taco Tuesday should be celebrated every day? Do you consider yourself a salsa connoisseur? Does a visit to the best wineries of Valle de Guadalupe excite you? Do you want to be a part of a team that supports each other and pushes each other to be the best version of themselves? Well, we're hiring for a variety of positions across all of our locations. Connect with us at http://eatpuesto.com/careers-restaurant-jobs/, we'd love to hear from you!